B2B Market Research can be Challenging and Complex to Execute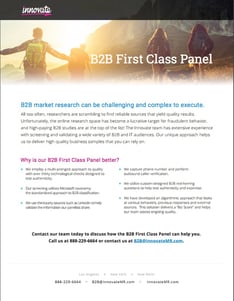 All too often, researchers are scrambling to find reliable sources that yield quality results. Unfortunately, the online research space has become a lucrative target for fraudulent behavior, and high-paying B2B studies are at the top of the list!
The Innovate team has extensive experience with screening and validating a wide variety of B2B and IT audiences. Our unique approach helps us to deliver high quality business samples that you can rely on.