Harnessing International Strengths to Build Custom Panels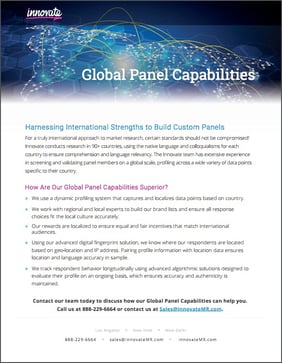 For a truly international approach to market research, certain standards should not be compromised! Innovate conducts research in 90+ countries, using the native language and colloquialisms for each country to ensure comprehension and language relevancy.
The Innovate team has extensive experience in screening and validating panel members on a global scale, profiling across a wide variety of data points specific to their country.
Complete the form to the right to download our Global Panel Capabilities brief and learn more about how we recruit for insights on a global scale.