Identifying Levels of Acculturation in Hispanic Segments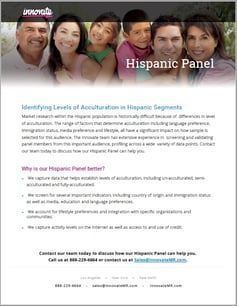 Market research within the Spanish speaking population is historically difficult because of differences in level of acculturation. The range of factors that determine acculturation including language preference, immigration status, media preference and lifestyle, all have a significant impact on how sample is selected for this audience.
The Innovate team has extensive experience in screening and validating panel members from this important audience, profiling across a wide variety of data points. Contact our team today to discuss how The Hispanic Panel can help you.