Health Insights from a Diverse Panel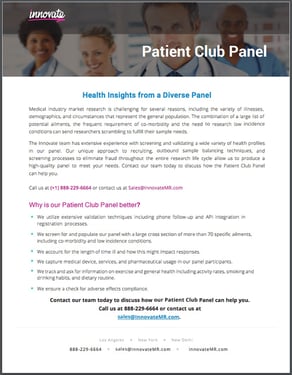 Medical industry market research is challenging for several reasons, including the variety of illnesses, demographics, and circumstances that represent the general population. The combination of a large list of potential ailments, the frequent requirement of co-morbidity and the need to research low incidence conditions can send researchers scrambling to fulfill their sample needs.


The Innovate team has extensive experience with screening and validating a wide variety of health profiles in our panel. Our unique approach to recruiting, outbound sample balancing techniques, and screening processes to eliminate fraud throughout the entire research life cycle allow us to produce a high-quality panel to meet your needs.


Complete the form to the right to download our Patient Club Panel brief and learn more about how we recruit for health insights.