What Defines and Maintains Quality in Sample?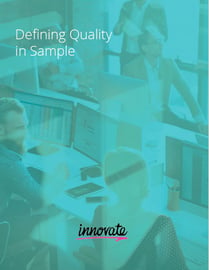 Data quality issues have proliferated throughout the industry, with increased incidences of fraud, straight lining, the initiation of a portable experience, and the increased need of clients to see results in just a matter of days or even hours.
What steps can and should a sample provider take to ensure the integrity of their sample, while combatting potential fraud and dips in quality?
Innovate's new eBook, Defining Quality in Sample, looks at:
The most important factors in defining sample quality

How Innovate approaches these industry-wide problems

What you should look for when preparing your next survey.
From technical layers of protection to sample and survey management, there are several factors that directly impact quality in sample, each of them important to ensure good results for clients. Complete the form to the right to download your copy today: