Innovate Panel Book
Updated 2017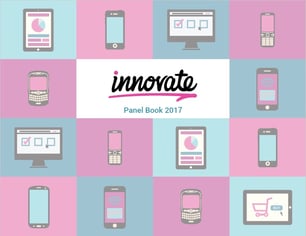 The panels we rely on in our space are comprised of people. Real people. These individuals deserve respect and gratitude for the time they devote taking our surveys and sharing their insightful opinions.
Innovate was born out of a simple principle: respect the lifeblood of our industry and provide an engaging user model that revolutionizes the customer experience.
Innovate is working diligently to reshape our industry. We are excited to offer our clients a unique, efficient and innovative approach to sampling.
We are reshaping the Market Research Industry with our fervent enthusiasm and technical prowess. We are excited for what the future holds and we look forward to partnering with you to make it happen!
~Matt, Gregg and George
Co-Founders, Innovate