An InnovateMR webinar in partnership with GRBN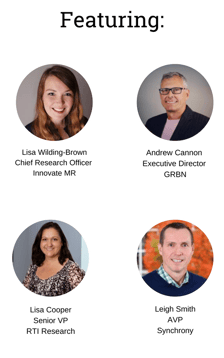 In an encore presentation of their CRC presentation, Andrew Cannon (GRBN) is joined by Lisa Wilding-Brown (InnovateMR), Leigh Smith (Synchrony) & Lisa Cooper (RTI) to discuss the results of the 2018 Trust Survey run by GRBN.
In this webinar you will learn:
How best to respond to low trust in the market research industry.
The steps that can be taken now to work towards a better participant experience.