Read About Our Approach to Sourcing for Difficult to Find Audiences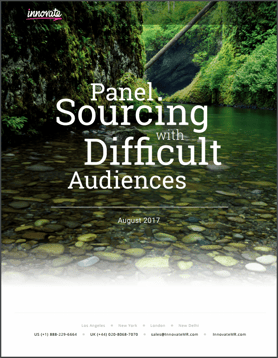 One of the most significant challenges in market research is ensuring that both quality and uniqueness in sample matches the specific needs of any given study. These challenges are only compounded due to the overlap of participants across multiple panels, as well as a scarcity among certain demographics.
Innovate's approach to this issue is based on years of experience in the field. This guide is designed to illustrate:

Specific best practices we ascribe to and recommend for building and utilizing panels for market research.

Recruitment methods for the management of sample over time.

How to ensure accuracy and sample availability — no matter how specific the needs of a survey.
Complete the form on this page to download your copy of the free eBook.