Innovate's Approach to Longitudinal Research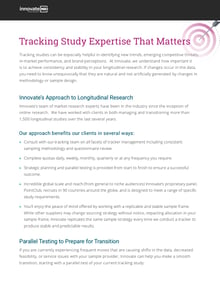 Innovate's team of market research experts have been in the industry since the inception of online research. We have worked with clients in both managing and transitioning more than 1,500 longitudinal studies over the last several years.
Download our summary of longitudinal research and tracking study capabilities to learn more about the benefits for our clients, including:
Consultation with our tracking team on all facets of tracker management including consistent sampling methodology and questionnaire review

Strategic planning and parallel testing provided from start to finish to ensure a successful outcome.

Incredible global scale and reach (from general to niche audiences). Innovate's proprietary panel, PointClub, recruits in 90 countries around the globe, and is designed to meet a range of specific study requirements.
You'll enjoy the peace of mind offered by working with a replicable and stable sample frame. While other suppliers may change sourcing strategy without notice, impacting allocation in your sample frame, Innovate replicates the same sample strategy every time we conduct a tracker to produce stable and predictable results.
Complete the form to download a copy and learn how Innovate's approach to longitudinal research can benefit your tracking studies.